The AFCS Board meets at least once a semester to forward the cause of the AFCS. Board meetings are open to any AFCS member and we are always looking for volunteers. Meet the elected board!
Where are they now?
President Rick Pollard (Class of 1977- Geology) graduated from A&M in '77, then again in '79 so he could get a job! He worked for Exxon as a "ug man" or micropaleontologist, then as a field geologist for offshore fields. In '86, Rick became an environmental geologist in California. After having his fill of California (no offense, Abbie!), he moved back to Texas in '89 and has lived in Houston doing environmental consulting ever since. Rick has been married to Kathy for 32 years and they have 2 adult kids: Jason and Melissa. Jason, as far as we know, is the first "2nd generation" Century Singer! Rick keeps up with his Aggie buds and enjoys attending occasional sports games and Century Singers spring concerts!
Vice President Will Hailey (Class of 2007- History)
is a law school graduate from the University of Texas at Austin. Will served as Vice President and President of the Century Singers.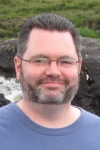 Treasurer James "J.D." Wallace, Jr. (Class of 1988- Microbiology) worked as a lab researcherin the areas of mouse molecular genetics and developmental neurogenetics for the first 10 years of his career, including a 3-year stint in New Jersey at Bristol-Myers Squibb and Hoffman-La Roche. In 1995, J.D. moved back to Texas to help start Lexicon Pharmaceuticals, a small biotech company in The Woodlands, working in alliance and project management. J.D. is active in the music ministry at The Woodlands United Methodist Church, singing in 2 choirs and a small contemporary Christian music ensemble. He also helped direct the 4th-6th grade children's choir.
Secretary Caitlin Kaluza Jeansonne (Class of 2007- Marketing) lives in Houston with her Aggie husband and their two cats. She works for MMI Agency as a Social Media Strategist, which means she gets to put her Social Media addiction to work helping clients apply traditional public relations principles to online tools like Twitter and Facebook. In her spare time, you can catch Caitlin geeking out, watching reality TV, and blogging on her personal website qcait.com.